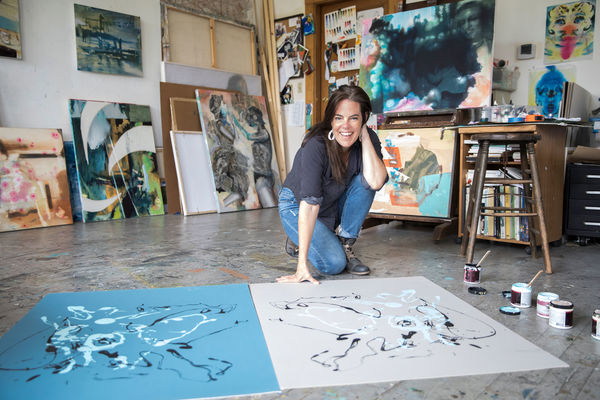 Canadian-American artist Jackie Reeves uses mixed media to bring together figurative and abstract elements in her art. She was raised in Montreal by architect parents and studied design art at Concordia University. Her artistic career began as a professional mural painter for corporate, private and public spaces. Concurrently, Reeves co founded the Plymouth Community Art Center. In 2010 she earned her MFA in painting at Massachusetts College of Art and Design at the Fine Art Work Center in Provincetown. She has since exhibited in solo and group shows in Massachusetts, Pennsylvania, Vermont, Washington DC and North Carolina. She has been profiled in numerous publications including WHITEHOT Magazine, the Boston Globe, Art New England and Artscope Magazine.
Reeves is an active member of the Cape Cod community offering mentorship through her art classes, public art and work with youth in creating murals that tackle issues of inclusion, diversity and acceptance.
Jackie works out of the Old Schoolhouse Studios in Barnstable Village and lives with her husband and three daughters in Sandwich, Massachusetts.